. . Dis Dad #797 . . Hoping to get lucky
Canadian Buffoon's Exhausted Vacation
Planes, Brains and Pains
Hey kids!
Welcome to another exceptionally
dull and insipid....

No, wait...
I better lie and say...
Welcome to another exceptionally
exciting and interesting trip report!
We've got it all, but mostly
exploding helicopters!
And cute and cuddly critters,
if that's your thing.

There. That should keep
you here long enough until
you find out it's all a lie.
But by then, hopefully
I'll be done writing
and it'll be too late
to escape!!!


Don't you just love when
a nefarious plan comes
together??

Apologies in advance...
This will be a long, text heavy chapter.
You'll see why in a bit.
More photos and less...
long-windedness after this.
Promise...

Maybe.


But first!
Let me introduce you to
all the players in this report!!!!



Me!


You'll find out more about
me as we go on anyway.
Or you can just refer to
any of my previous TRs.
(Links in my signature.)


That's it.
And really, the less said
about me, the better off
you'll be in the long run.

My long-time readers will
be able to attest to that.



No. There won't be a test...
Hmmm... let's change that...

There will be a test.
Actually, more of a con-test.


That's right, due to popular demand
(i.e. flagging readership levels...
it's called bribery.
And it works.

Maybe.)

… uh... where was I?
Right!
Due to popular demand,
(one person mentioned it)
I am going to do another
contest in this TR.

And!

There'll be actual prizes.
Or prize.
I don't know what it is yet.
Probably chocolate.
Or maple syrup.
Or something.

Probably not a hockey puck.

But there'll be something!


The contest will test
(there's that word again)
your perception and attention.


What do I mean?
Well, usually when I post
an update (like this one)
I'll have a photo that's had...
something added to it or
modified.
I'll ask you at the end of the
update if you've "seen it".
If there's more than one thing,
I'll tell you how many, so you're
not searching fruitlessly for
something that isn't there.


Although, that'd be pretty funny.


I may also include instructions
or questions in the chapter
to see who's paying attention.
And if my guess is right...
that should be no one.

I know I've already lost interest.


One last thing,
since there's a prize and not
just bragging rights, I will
not accept answers posted
to this forum.
Indeed, answers blurted out
will result in negative points
being awarded.

You've been warned.

"But how, oh pkondz the oh-so-wise
do we tell you our answers?"

Good question.
You PM me your answers.
Yes, it results in me being
swamped with PMs, so...
Don't expect replies.
(But if you don't see points
awarded, or incorrectly
awarded, please let me know.)

Okay. I think that's it.

Shall we begin?
Say "yes" if you think so.

Um... I'm not waiting.
Let's get this thing going.



-----------------------------------------------


Before we hit the sunny sights and sites
that is Walt Disney World,
a modicum of background and the
oh-so-popular TR fodder...

The Travel Day.
<shudder>

The less said about The Travel Day,
the better, but it's a necessary weevil.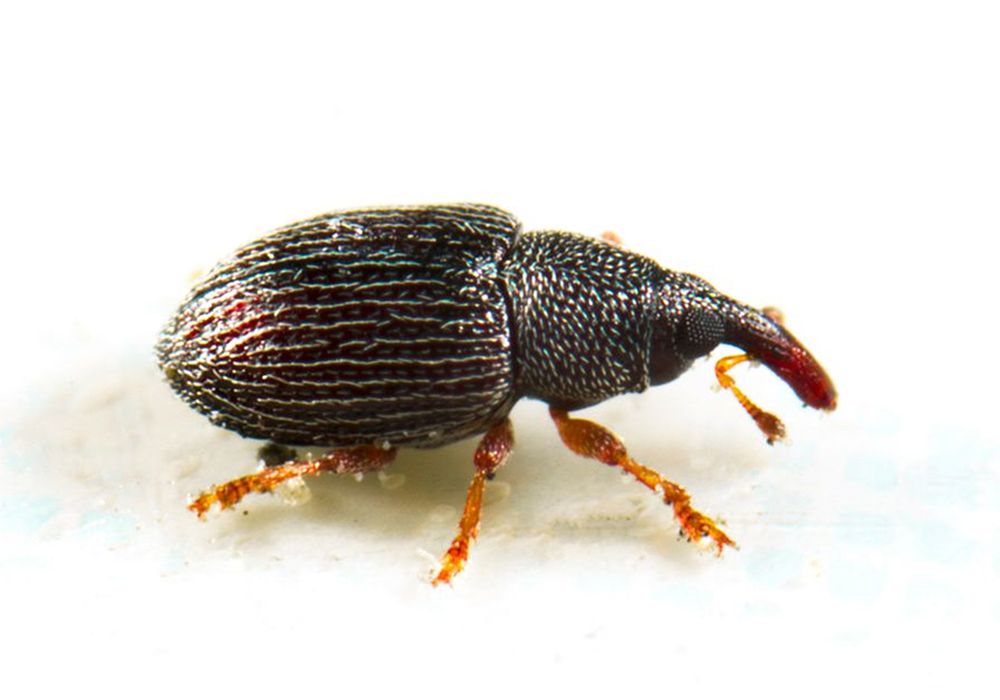 Sorry if that bugs you,
but I can't talk about Disney,
if I don't get to Disney.

For illustrative porpoises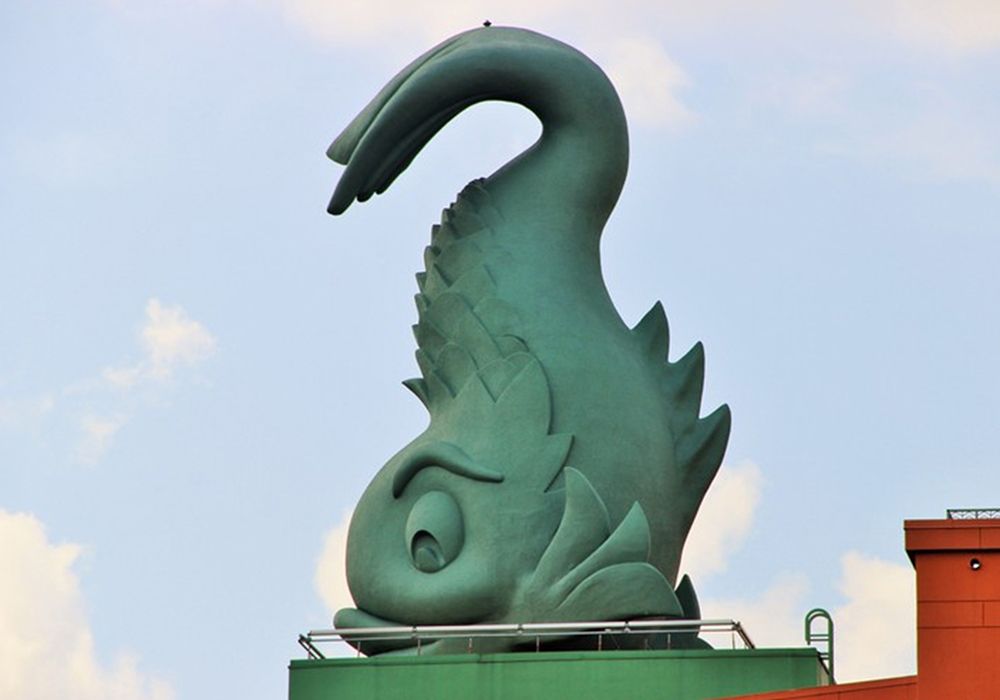 (there's no way that's a dolphin!)
I'm going to dive into
the days leading up to the
trip really briefly.
I want you to have a good
idea on where the title
of this TR comes from,
and that will help
set the stage.


Thursday.
Four days before I leave.
Woke up around 8:30am
Evening shift today.
I work from 3pm - 11pm.
I get home, putter about
for a bit (I can't just stop.
I need to unwind just
a little bit before turning in)
and am asleep a little
after midnight.

Friday.
After less than five hours sleep,
I wake up for my day shift.
I work from 6:30am - 2:30pm.
I get home, do the things
I need to do (shopping,
cooking, eating, etc.)
and am back to work by
10:30pm for my night shift.
For those of you keeping score,
that's three eight-hour shifts
or 24 hours worked in 40 hours.

Saturday.
I get home after work sometime
around 7:30am.
Time for breakfast and I'm in bed
sometime between 8:00am and 9:00am.
Up around 2pm. Maybe a little earlier.
Maybe a little later.
But that's the norm.
5-6 hours of sleep.
If I'm lucky.
That night, I head back to
work by 10:30pm again
for another night shift.

Sunday.
Once again, home around
7:30am. Another crappy
"sleep" of maybe 4-5 hours.
I go through the day in
semi-zombie mode.
I try to sleep in the evening
but sleep eludes me.
Around midnight I give up
and take a long shower instead.

FYI, a shower is a sorry substitute
for sleep, but it is the second
best thing to it.

Monday. Travel Day.
I hadn't really slept in the last
few days, but truth is...
I hadn't slept much for
the previous couple of weeks.
(Just some personal stressful
things that were going on
at the time were keeping me up.)
So you'd think by now I'd be
used to it!!!


(I wasn't.)



Then it was time for the
always popular
"Will the cab come on time
or will I miss my flight" game.

I love that one.
That feeling in your stomach
as the time gets closer and
there's still no cab, is second
to none!!

Finally, at 2:30 in the morning,
my cab pulled up outside.
Right on time.
Worried for nothing.
But that's the game.


No one wished me a bon-voyage.
Mostly because they were
sensibly sleeping and would
instead say "Have a good trip",
if I were leaving at a more
humane time of day.

Actually, if I was leaving at
a more humane time of day,
someone probably would've
driven me to the airport
and I could've saved $40.


I get to the airport a little
after three o'clock in the
morning and join the other
semi-zombies lurching about
and stabbing futilely at the
check in screens while mumbling
"planes... planes.... planes..."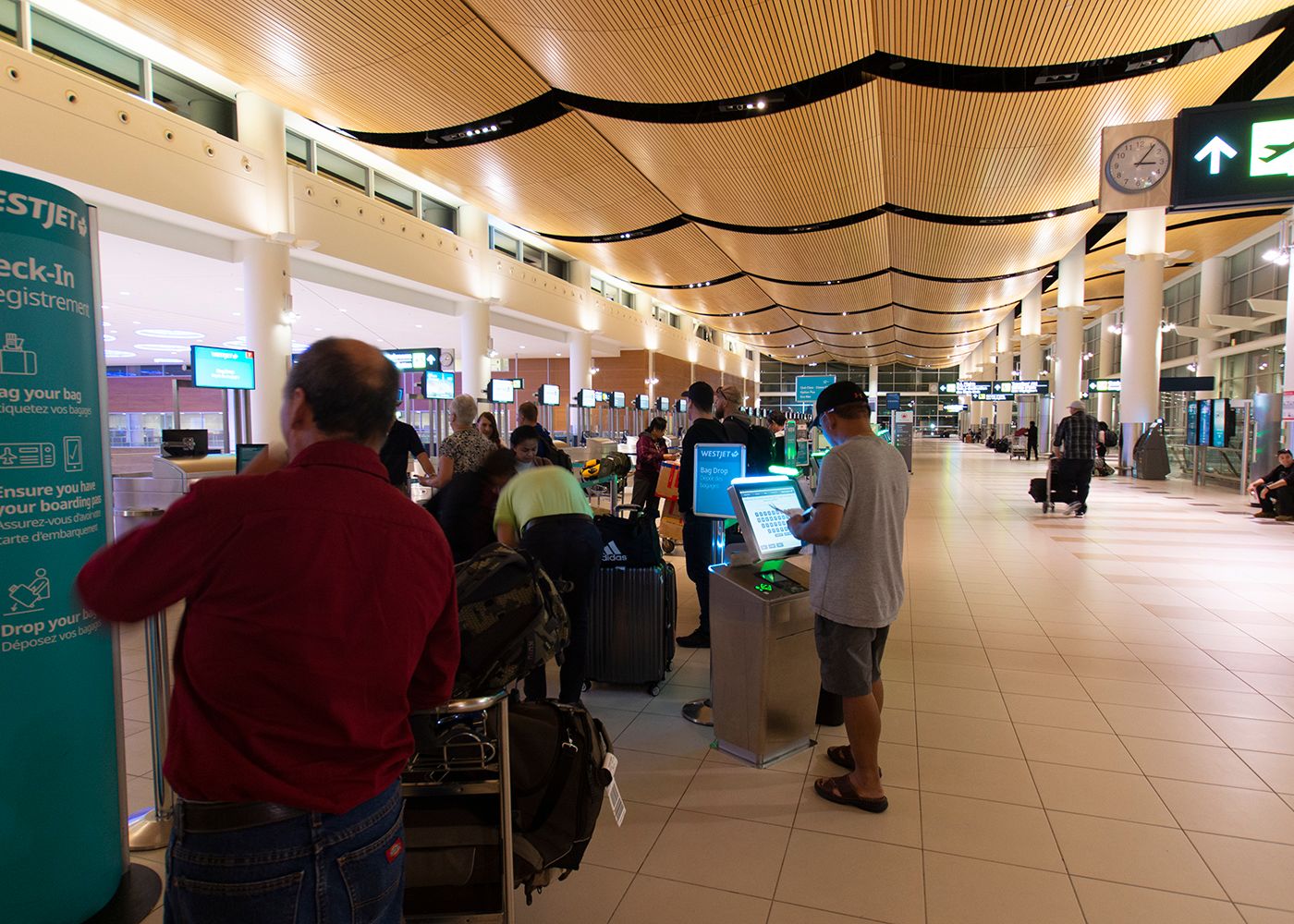 I always try to fly WestJet
when I fly.
For several reasons.
1. It's a kinder, gentler airline
than our other major carrier.
2. I get (and use) points for
reduced fare travel.
(This flight was costing me
a few points and $100
round trip.)
3. It's less tiring than
using my arms.
4. I get one free checked bag.

That is... I get one free checked bag...
unless it's seven pounds overweight,
in which case it costs an extra $105.

The check-in attendant tells me:
"You'll have to take something out."

Listen, lady. If I could take something
out, I wouldn't be bringing it to Florida.


Security opened up not long after
at 3:30am.
I can't imagine having to be up
and at work by 3:30am.

Oh. Wait.
I can imagine it.
Sounds more restful than
what I'm doing now.




I'm one of the first through
security. I toss my carry-on onto
the conveyor belt and watch
as it disappears into the X-ray
machine.
I had all kinds of stuff in there,
and assumed it would get searched.

I wasn't disappointed.


The agent pulled out two items.
A very sharp and stab-able pair
of scissors... length about three inches.
And a very dull, tiny (also about
three inches) screwdriver, that I'd
forgotten was even in there.

Guess which one was deemed
"okay" and which was tossed.

They really don't want you
screwing with their airplanes.

"planes... planes... planes..."


Speaking of sustenance...
It's 3:30am... I haven't slept
since.... forever.
(okay, since about 1pm
the day before?)

I deserve a treat, dang it!




Vanilla Bean Frappuccino
and a molasses cookie.
I hardly ever go to Starbucks,
mostly owing to the fact
that I don't drink coffee.
But there's no coffee in this
drink and those cookies?

Yummm!!!

I took a big bite of the
cookie... Yep! Yummm!!!
And a big slurp of the
frozen concoction.




"brains... brains... brains... hurts..."

Once the pain in the brain
(falls mainly in the plane)
subsided, I wandered over
to the gift shop and perused
the book titles.

One thing became very apparent...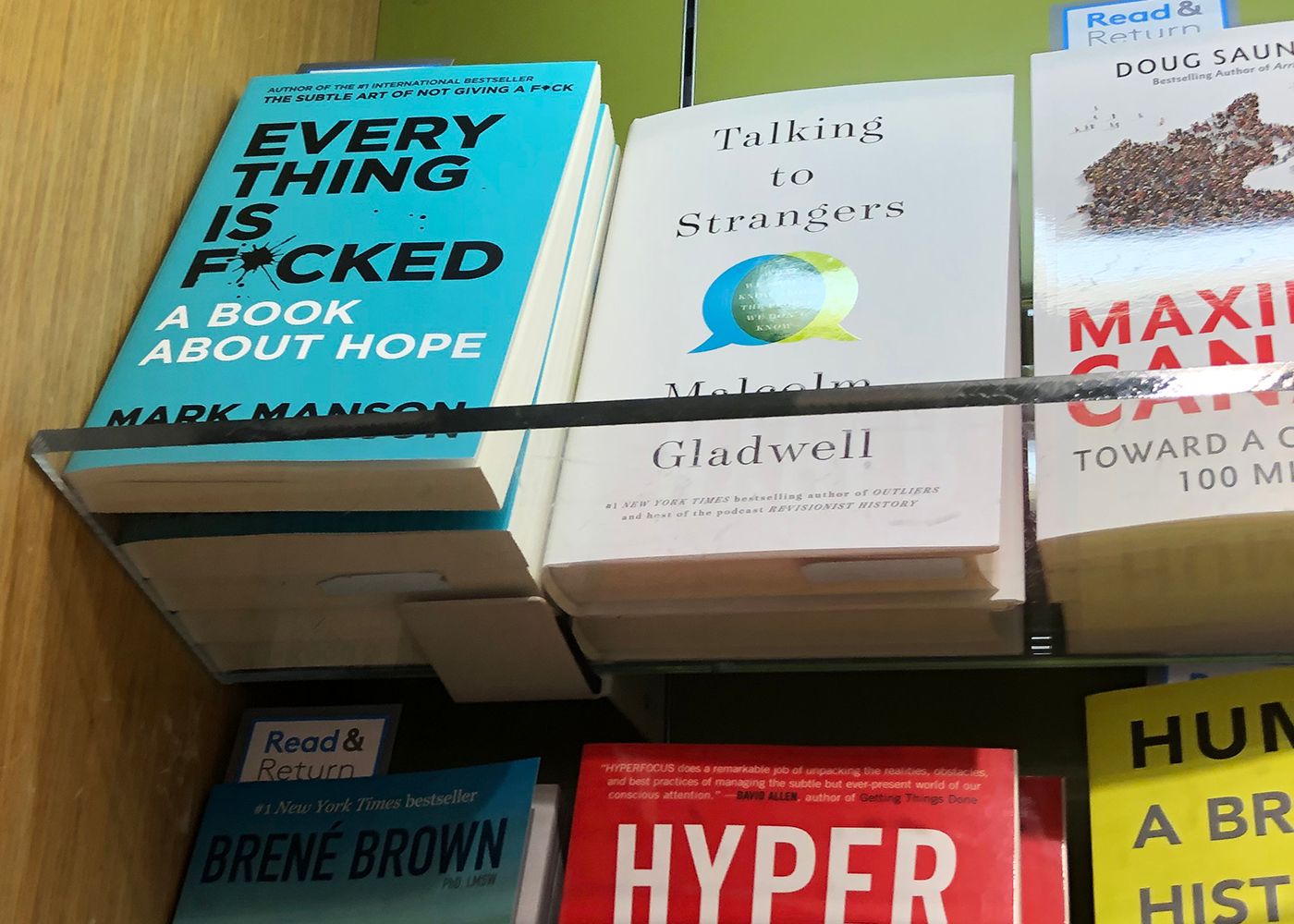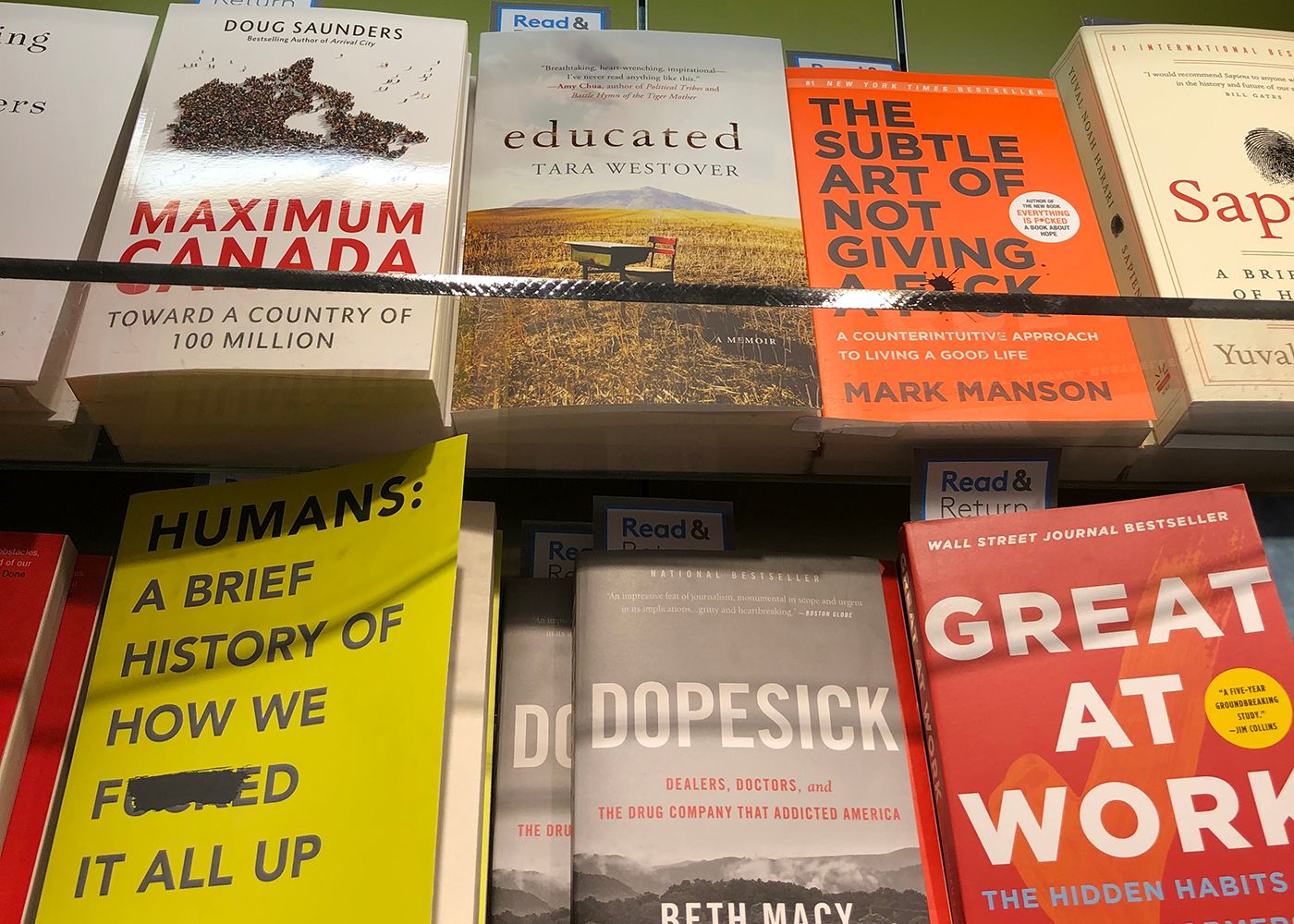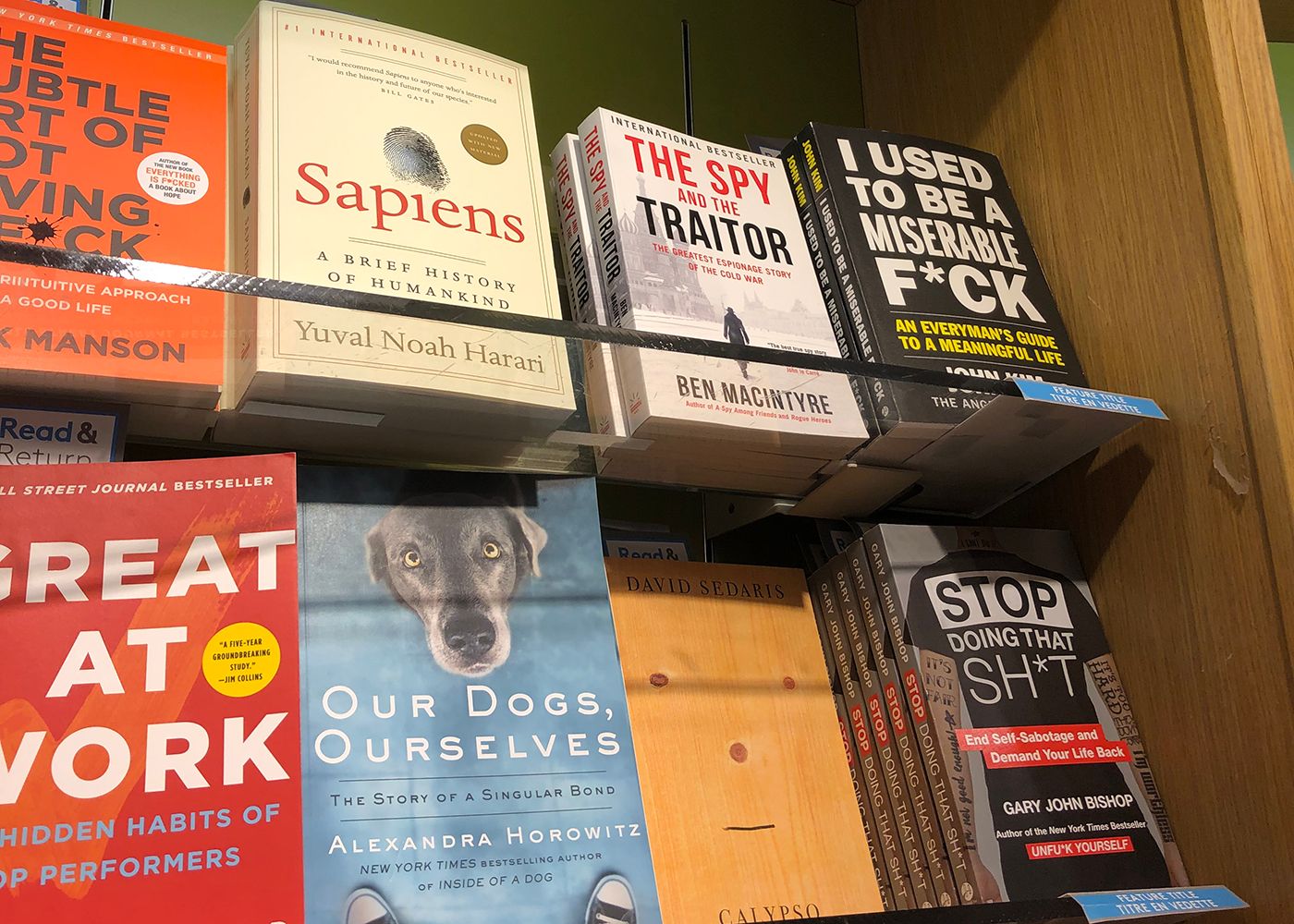 There were a f... hecking lot
of books with similar titles!
What the f... heck is up with that?


Eventually, they announced that
boarding was commencing.
I was one of the first people
to board.
Why?
Because I'd upgraded myself
to a "Plus" seat.
For a fee, you can upgrade
and sit up front with extra
leg and elbow room.
I didn't do it for either of
those reasons, though.

My connecting flight in Toronto
was going to be tight.

It always is.

I wanted to give myself
the best possible chance
of making my connection.
So not only did I sit in the
front of the plane, I sat in
the front row.
And not only the front row,
but the aisle, closest to
the exit, so I could be the
first person off the plane.

I patted myself on the back
for my foresight and also
burped a bit as a result.


The flight departed right
on schedule at 5:00am.


We landed in Toronto and
as soon as the flight attendant
gave the all clear, I bolted
out of the plane and down
the jetway*.



*A jet bridge (also termed jetway, airgate, gangway, aerobridge/airbridge, air jetty, portal, skybridge, finger, airtube (tube), or its official industry name passenger boarding bridge (PBB)) is an enclosed, movable connector which most commonly extends from an airport terminal gate to an airplane. (wiki)
You're welcome.

My next flight wasn't leaving until
9:45am so I had over an hour
to catch it.
Noooo problem!
I'm way ahead of anyone else!

I scooted along, having the benefit
of having done this before, I knew
exactly where I had to go.

I got to my first hurdle.
Another round of security.
But at least this time,
I didn't have a small, dull
screwdriver with me!

The line to security was
fairly average for Toronto
at this time of day.
Pretty much what it's always
been when I make this connection.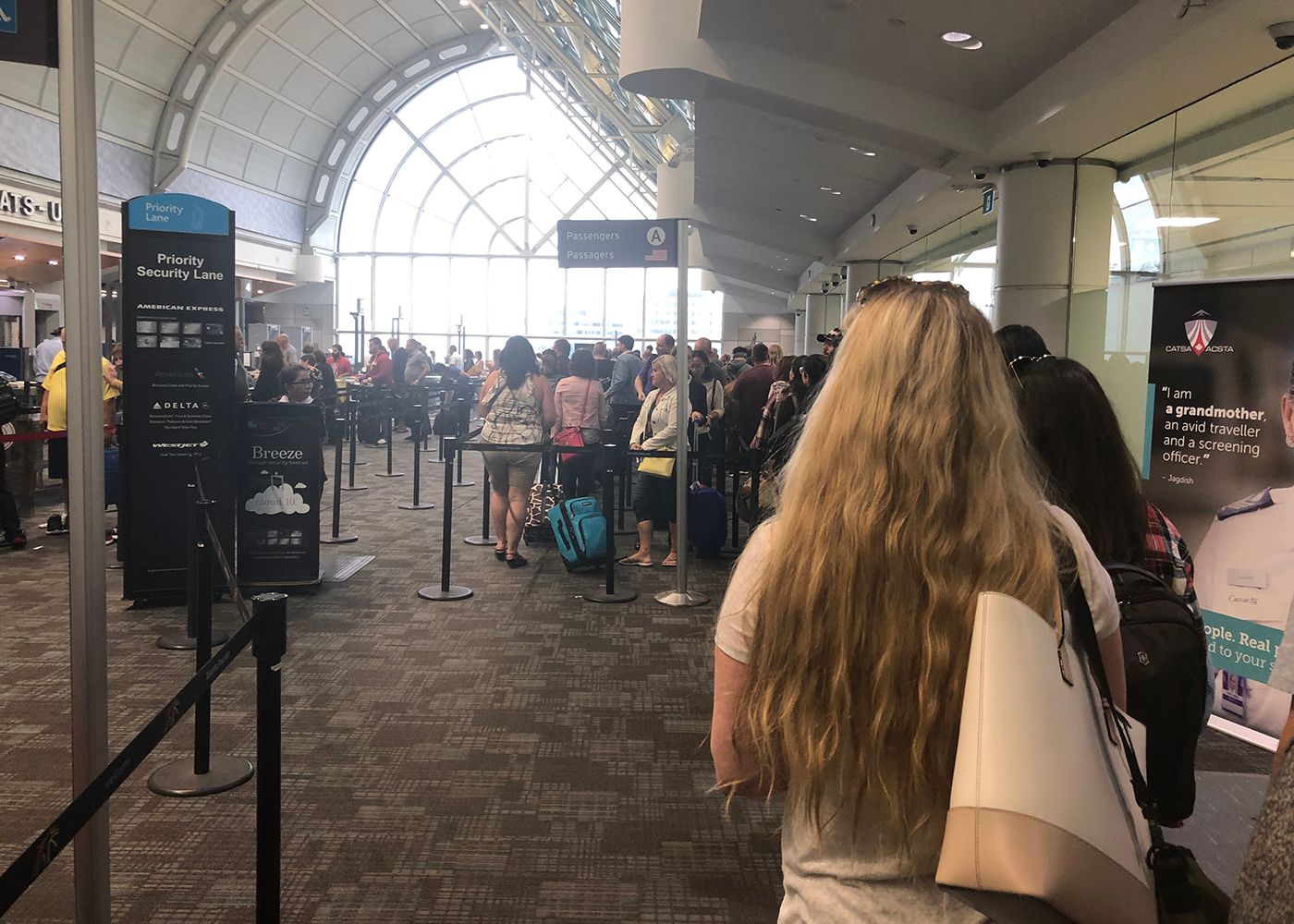 Looks not so great,
but it didn't take too long
for me to get through it.
Maybe ten minutes?

But...
After successfully passing
the first hurdle,
I was directed into a side room.
A room I became familiar with
when I last did this trip with
Elle, earlier in the year.

You have to wait until your bag
is processed by USA TSA.
You can't move on to the next
phase until you see your initials
show up on the screen.
As you can see, in the following
photo, there were six aircraft
ahead of mine that were to
be processed.

And yet... I was pretty much
the only person there.
I started to get a bit nervous...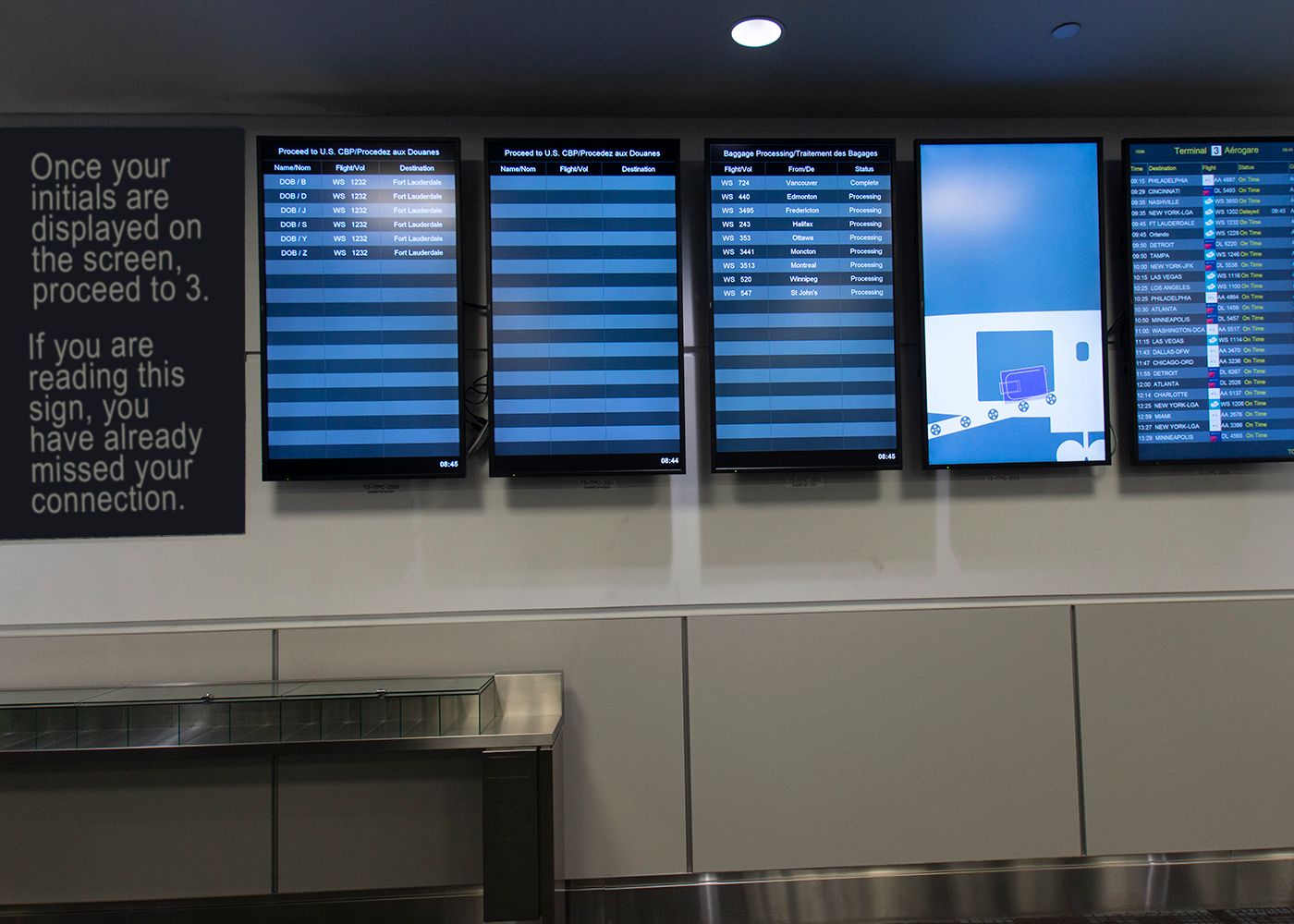 Eventually, I was told that
I could continue to the next room.

In the next room, you wait in line
to approach a kiosk that takes
your photo and asks you questions
like: "Do you really think you'll
make your connection? LOL."
After you answer what seems
like an eternity of questions,
the machine laughs at you and
mockingly spits out a paper
with a photo of you on it
so you can see just how
panicked you look to
everyone else around you.

Except no one cares,
because we all have
that same panicked
look on our faces.


After all of this...
Then you get to go
in the extraordinarily
long line to see a
customs agent.

My flight was scheduled
to depart at 9:45am.
I made it through
customs with time to spare!


At 9:37am.


I moved as quickly as
I possibly could without
actually running and
bowling over little
old ladies.
I got to my gate
which was disconcertingly
empty save for a lone
WestJet gate attendant.
I glanced over towards
the tarmac and...
Phew! The plane's still there!
I breathlessly asked the agent
"Did I make it?"
He looked at me and said.


"No."

yay.

But!!!
He then said. "Hang on."
And darted down the airtube
(Let's pick that one!)
I waited, nervously... and...
watched as the skybridge
(sure! this is fun!)
retracted from the aircraft.

That Boeing was Going
without me.
I should've bowled over
all those little old ladies.


The agent came back and
before he could break the
bad news, I spoke up first.
"I know. I saw them retract
the bridge."

I did ask him why on Earth
would WestJet schedule
and sell a ticket for a connecting
flight that wasn't even
possible to make?

I don't remember what his
answer was but it amounted
to "I don't know."

And of course it wasn't his
fault, so I kept my mouth shut.
(I may have even told him
that it wasn't his fault... but
my memory is a bit hazy
about that and I didn't make
a note of it.)

He pecked at his keyboard
for a bit and told me the
good news. I was rebooked.

Okay... I'll be later...
but I'll get there.

And an hour or so later,
they announced that
WestJet's flight to Orlando
was now boarding!!!!

Not that it mattered...
I wasn't taking that one.
I had a four hour wait
for my flight.


Whelp. That certainly is
going to change my Disney
plans for the day!
I had planned on hitting MK
as soon as I arrived.
Somehow... I don't think that's
gonna happen now.
I logged onto MDE and
tried to cancel my lunch ADR,
but because it was for the
same day, I had to phone instead.
Long distance.
And roaming charges.

It turned out to be just
slightly less expensive
than incurring the ten dollar
no-show fee.


Eventually I made my way
to my gate where I had
the utmost pleasure of
hearing that my next flight
was delayed.
Luckily it was only another
fifteen minutes.
But, when they made that
announcement...

<shudder>


Eventually we boarded
and settled in...
And waited...

I don't remember what the
hold-up was, but we wound
up taking off about an hour
later than scheduled.

Sure! Why not!

The flight itself was uneventful
and after not very long,
at approximately 4:30pm,
we landed in...

New York City.


I'd never been to New York,
so I was hoping to see
some familiar landmarks.
But the only thing I saw
from the air that I recognized,
was the Hudson river.
(And only because of the
movie Sully... great movie
if you haven't seen it.)


Please don't be offended
if you're a native New Yorker
when I say... I really didn't
want to be here.
I do want to visit NYC some day.
But today was not that day.

On the bright side,
my next flight out wasn't
for two and a quarter hours,
and without customs or
security to fight through,
there was a better than
50/50 chance I'd make it!
Then again, it was a Delta
flight, so even though
I upgraded my seats
with WestJet, Delta
didn't have to honour
that and I wound up
sitting farther back in
the cabin.
At this point, though,
I really didn't care.


While I waited for my next
flight, I received this
incredible email from WestJet:



Dear pkondz,
Thank you for flying with us from Winnipeg, CA to Orlando, US. While we do our best to go above and beyond for all of our guests, we understand that there's always room to improve. Please take a quick one to two minutes to connect with us about your inflight experience. We look forward to hearing from you!
Overall, how satisfied were you with your inflight experience?
at all satisfied Extremely satisfied
0 1 2 3 4 5 6 7 8 9 10
Kind regards,
WestJet
Can you guess what score
I gave them???

There was a short survey as well,
which I filled out.
There was an area for comments
and I asked why they would
make connecting flight schedules
that were impossible to make.

And there was also a question
about the food service.
I marked that as 5 and when
asked why, I wrote that
I didn't eat anything.
(It was early in the morning
and wasn't hungry.)

This is the response I got:



Thank you for contacting WestJet Airlines.
We are sorry to hear we did not stock enough food and snack items on board your flights. We do try to estimate how many guests we will need to provide food for (as all guests will not buy snacks or food onboard) and have found that our estimations have been quite accurate. However, we apologize that you encountered shortages on the day that you flew. We have shared your feedback to our Air Supply Department so they can be made aware of your experience. This will help them work towards a plan of action to prevent similar situations from occurring in the future.
pkondz, this does not negate your experience and we hope you accept our sincerest regrets for any undue upset.
know our guests are also welcome to bring their own food items on board. Favourites from home or items bought at the airport's restaurants or kiosks (once past security) are another way to ensure you will have what you can and like to eat in-flight.
personnel at the airport are acting outside of the authority of any airline carrier. Although we do aim to help our guests get to their gate on time, we have no control over the line ups for security. We will be following up with our Airport training team to review the necessary procedures and training of our airport teams regarding cut off times and guidelines.
that said, we build all our flights with the minimum connection time or more required by the airport where the connection takes place.
We thank you for sharing your feedback with us. We remain apologetic if the Basic Fare you purchased does not meet your needs. We appreciate the opportunity to respond.
Warm regards,
Juan A-R
Guest Support Specialist
I couldn't believe it.
I was stunned, frankly.
I'm ticked because of
the lousy scheduling
and they apologize
for not having food?
And that I should have
brought my own???

I replied thusly:

"Is this insulting email supposed to be funny???
What the hell! I'm stuck nowhere near my destination and you focus on the only thing I didn't complain about? For real????"

Perhaps not my finest hour,
but I was a tad... cranky by then.

They replied again:



Thank you for your reply. We are sorry to hear you are not satisfied with ours.
We do appreciate the main focus of your email was pertaining to missing your connecting flight and not the lack of food or beverages available onboard. Please accept our apologies for any misunderstanding in that respect.
Please be assured we follow the minimum and maxium connection times as per the Canadian Air Traffic Security Authority and the airport where the connection takes place. Although we do aim to help our guests get to their gate on time, we have no control over the line ups for security.
In the unlikely event a guest does miss their connecting flight due to unexpectedly long security lines and /or delays, we do reaccomodate them to the next available flight to get them to their final destination as soon as possible. We are pleased to see you are confirmed on your new connecting flights to MCO.
We thank you for sharing your feedback with us, and wish you all the best as you continue on your journey.
Kind regards,
Marguerite
Guest Support Specialist
I still wasn't overly satisfied
with their response and
sent off another email:

"Terrific. How about refunding the price I paid to upgrade my seat for the 3 hour flight to MCO, but instead I get to sit cramped in the back of this DAL flight?"

Once again, I got a reply.



Thank you for your reply.
We are truly sorry this unexpected event impacted our ability to provide you with a stress free travel experience. We have gone ahead and refunded $166.95 back to your original form of payment and you will see this reflect on your payment card statement in the next three to five business days.
thank you for shedding some light on your experience and allowing us the opportunity to respond.
Kindest regards,
Anne
Guest Support Specialist
I will say this:
While the situation
wasn't ideal, and I
still think that connection
time isn't reasonable,
(I've never seen short lines
for customs at Toronto,
I always just barely make it.)
WestJet did answer my emails
promptly. Not always accurately,
but promptly nevertheless.
And in the end, I did get my
upgrade cost refunded to me
at least.


Finally... I don't remember what
time exactly... we boarded for
the last leg of the journey.

As I sat waiting for the plane
to finish loading... I noted
one passenger who had
come... prepared.
This dude had brought
an entire pizza onboard!
I was in awe.


The flight was uneventful
and we landed at MCO
right on time at 9:09pm.

I have to admit that I was
not as thrilled as I normally
am when I first ride
the fake-o-rail to the
main terminal.

I got to the DME check-in
around 9:35PM.
And this is where I began
to be a little worried.
I had tagged my bag
with DME, but...
DME shuts down at 10pm.
Would my bag make
the cut-off?
Heck, did it even make
the flight???
I had no idea where my
bag was, or which
airline had it last.
I asked the CM and
she assured me that if
it was tagged for DME
that it would be delivered.

I had my doubts, but...


There was no waiting
for a bus as one was
sitting idle as I approached.
I boarded at 9:35pm,
but the bus didn't leave
the terminal until 9:50pm.

About half an hour or so later...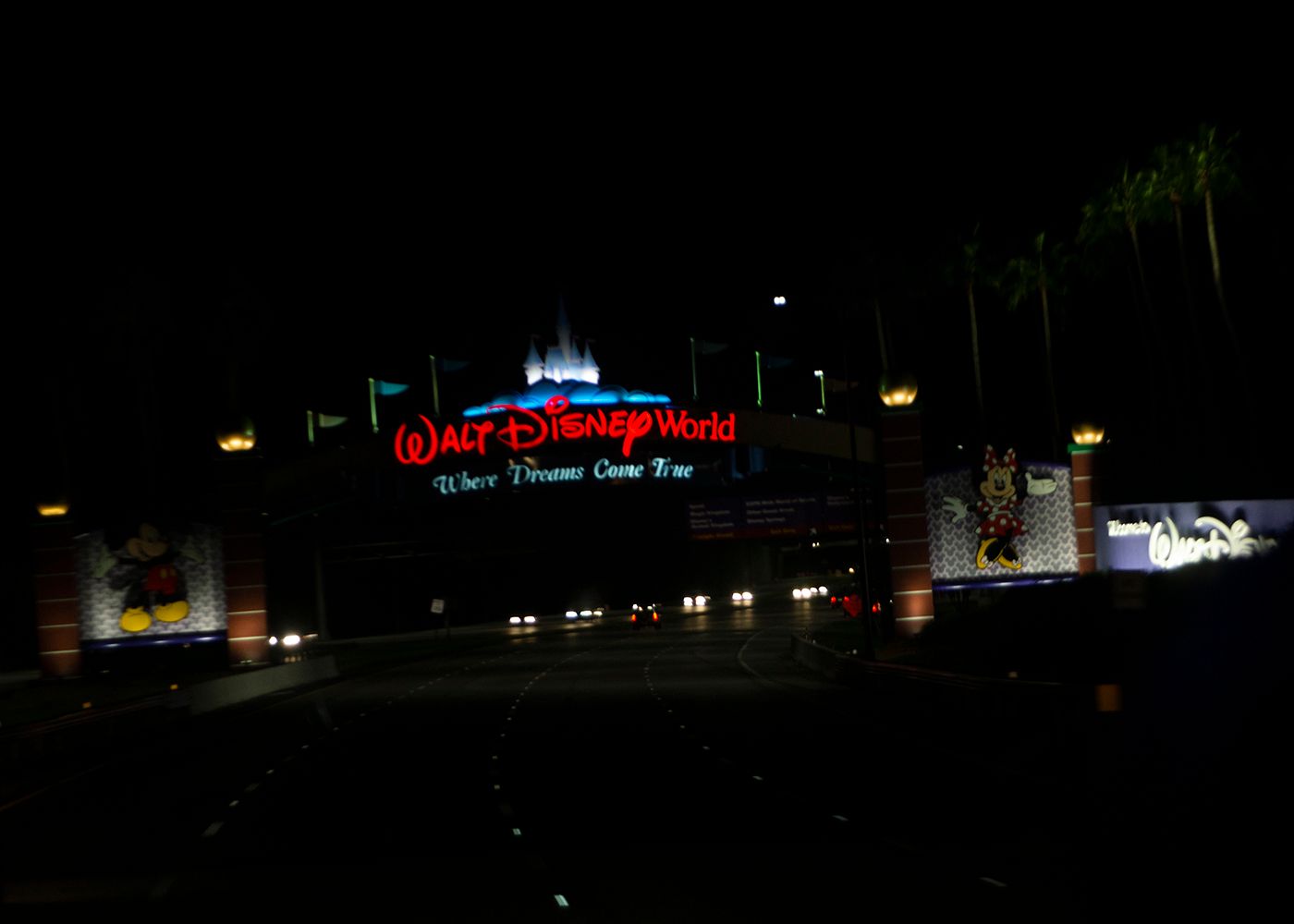 Actually... dreams would
be really nice right about now...
Still... Sight for sore eyes.

At 10:30pm, I was
deposited outside the
ASMu lobby.

I checked in and was pleased
to see that I'd gotten the
room request that I'd faxed
in through Touring Plans.
(More on that, in another update.)
I enquired about my
checked bag...

That poor girl.
She tried. She really tried.
Numerous phone calls.
Numerous questions.
She spent almost an hour
trying to track down my bag.

The good news?
She discovered that Delta had
indeed, at some point, been in
possession of my bag.

The bad news?
Disney's bag service was closed
for the night and she couldn't
find out if they'd recovered it or not.


Well... that's a fairly wonderful
way to end my day.
I paid extra for it, so it looks
like it got extra lost somewhere.

The CM offered to give me a
$75 credit to buy a shirt and
any sundries I needed in the
gift shop.

In my slightly befuddled state,
I began to wonder how long
I could go with only one pair
of underwear.
And Steppesister wasn't
around to ask for advice.

(Well, technically she was.
Except I was at ASMu while
she and her family were in the
more rarified realms of the GF.
They don't let riff-raff like me
into places like that. They barely
tolerate me in the Values!)
(ETA: Alison just pointed out
that Liesa was at the GF in May.
I don't know where she was
in September. But I'm gonna
guess it wasn't ASMu, since
I didn't see her there!)

The CM took my hesitation for
displeasure, rather than confusion
and upped the offer to $100.

Knowing there was probably little
else she could do for me, I accepted
her offer and staggered over to the
gift shop in search of a shirt and
a can of shaving cream.


The selection was... not great.
Eventually I picked something
that was the least un-palatable,
grabbed the shaving cream...
And stumbled over to my room,
arriving there at 11:30pm.
I unpacked the little that I had,
undressed and crawled into
bed right around the stroke
of midnight.

I had slept a grand total
of about fourteen or fifteen
hours over the span of...
one hundred and eleven hours.
(About four and a half days.)
I may have fallen asleep the
moment my head hit the pillow.
Actually, I think I was asleep
before my head hit the pillow.


And at 12:30am, there was a knock
at the door.
I quickly threw some clothes on,
and answered the knock.
A CM was standing there with my bag.

"Oh!" I exclaimed (mumbled, really.)
"You found it!"

He gave me an odd look and said.
"Of course. It takes a while to get
from the airport to the resort."
He was genuinely puzzled and
I was in no condition to explain
it to him.

I thanked him, pulled the suitcase
into the room and collapsed
back into bed, bag untouched.

No more was done that day.
Contest!
I have no idea how this contest will be run yet.
I'll figure that out as we go.

But to start you off
I'll give you some warm up questions.

1. What time do I get up the next day?
(Well, technically, the same day, seeing
as it's after midnight.)
I've given you a fairly broad hint already.
Closest to the right answer wins bonus points.
Points awarded in descending order.

2. Where do I go the next day?
a. A theme park.
b. Two theme parks.
c. Three theme parks.
d. DTD.
e. At least one theme park and DTD.
f. Nowhere. Too tired.



And...
Did you see it in this chapter?
Did you do it?




Coming up... The day after...

(and... I told you this was
going to be a long chapter!
You have no one to blame
but yourself!!)
Last edited: