Is Resistance Futile or Do We Rise to the Occasion?
Disneyland, February 3-February 5, 2020
It has been a few weeks since my husband Mark and I stopped over at Disneyland for 2 1/2 days on the way to Hawaii.
We booked the flights for this trip at the end of February 2019. We knew we wanted to stay at the Disneyland Hotel, but we weren't able to book the room until late summer. We contacted my DIS friend and travel agent Lisa
@mickeystoontown
and asked her if she could book the room for us. She watched and let us know when the rooms were released and then kept an eye out for discounts. One became available for our stay, saving us $100 and getting us a better room category.
Thanks, Lisa!
We got our tickets, 3 day park hoppers with Max Pass, from Undercover Tourist.
We used Lansky Transportation/DK Livery again for the private transfer to and from LAX. We appreciated the reliability and ease of this service- we were at Disneyland within an hour of touchdown. It is pricey, but we did receive a small repeat customer discount.
Here are a few favorite photos and thoughts from our trip.
It was much colder in California than we expected while we were there. One morning it was 40 degrees when we started out! We had packed one pair of pants and wore those every day of our trip, along with sweatshirts.
The ease of hopping between DL and CA, just walking across a small esplanade, is awesome. The pay-for-FP app, Max Pass, is cool. Being able to collect ride reservations from anywhere (once you have scanned into a park) is great and was worth it for us and I liked that ride photos and pictures taken by photographers are included with the service. We paid $15 per person per day, the price has since risen to $20. Guests can still get the traditional Fast Pass free though if they don't want to purchase Max Pass.
As for the attractions, in many cases the ones in DL are better, in some cases far superior to the ones in Florida.
Tower of Terror- Guardians of Galaxy theme- OMG, SO.MUCH.FUN!!!
Pirates- you get a whole 'nuther ride before getting to the part you also experience at WDW.
Radiator Springs Racers "Cars" and Carsland- Awesome theming. If you are comparing the ride to Test Track, there is no question RSR wins
Space Mountain, Big Thunder Mountain, Small World- all slightly better in DL.
This was our second trip to DL- we went in July 2014 with the boys. WDW in Florida remains our home park. I find the cast members in Florida to be more prevalent and friendly than their west coast counterparts.
One example: Entering California Adventure, using my phone to display my ticket, the CM at the turnstiles asked me if I could brighten the screen to my phone. I said I don't think I can (new phone, not sure how). As I was walking away, I heard him say "Work on that!"
Nighttime entertainment- During the offseason, there are no nightly fireworks or Fantasmic shows during the week at DL due to the park being too close to residential areas. The spectacular World of Color did have shows every night of our trip, though, and you can reserve a Fast Pass that doesn't interfere with getting other FPs at the parks.
Food choices-much easier for us in WDW. Maybe because we know the places so well, but we struggled when it came to meal time in Disneyland, especially breakfast. We didn't eat at any sit down restaurants while there- it was all counter style or takeout.
We really enjoyed the Polynesian-themed Tangaroa Terrace, which was conveniently located at our resort, the Disneyland Hotel.
We split this amazing ramen one evening and we had breakfast there before our Early Morning Magic at California Adventure
Ramen, 2 cups of ice water, $16.16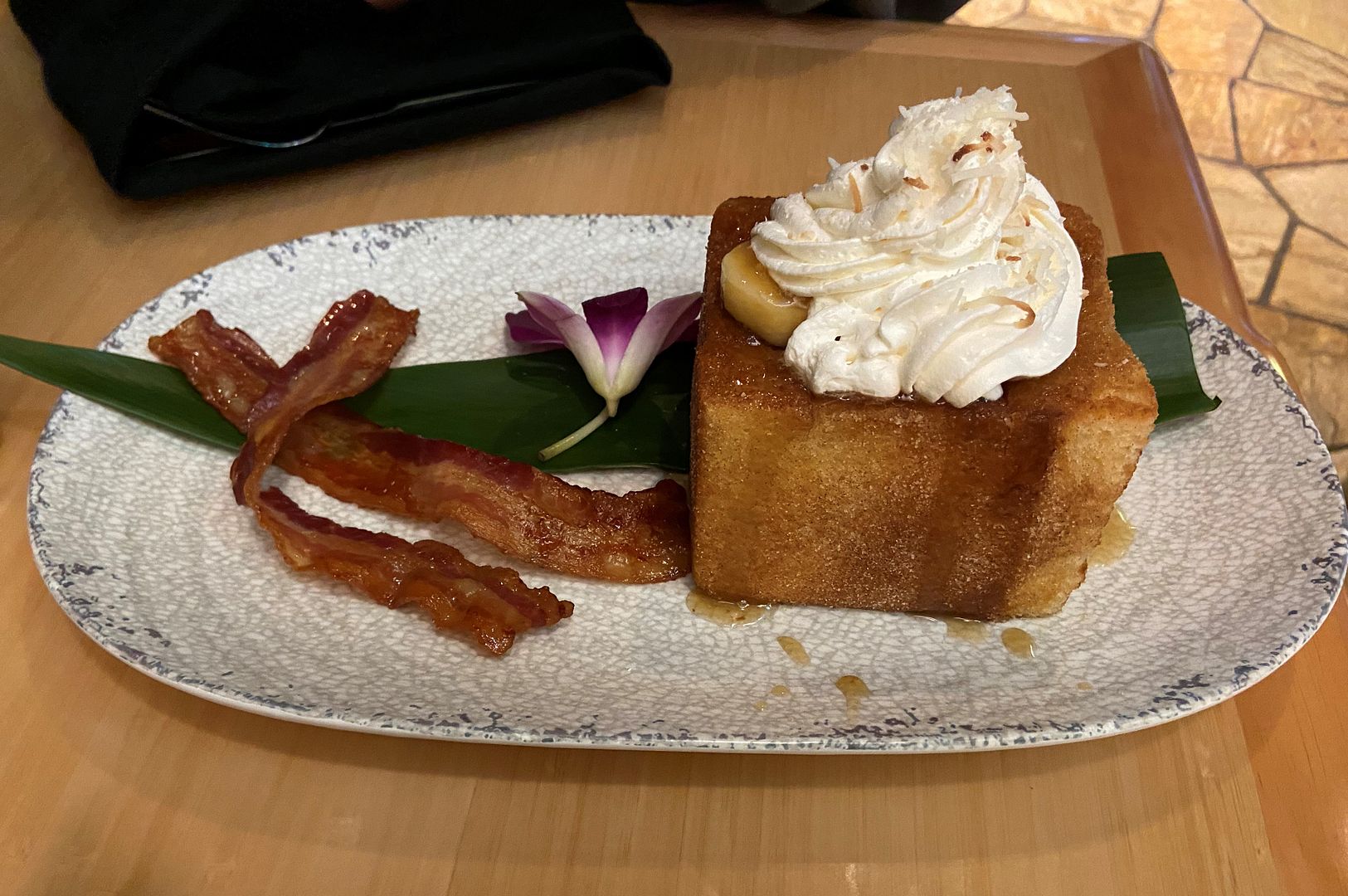 Breakfast Platter, Tangoroa Toast,bottle of OJ, $35.22
The skewers from Bengal BBQ in DL were quite good, but surprisingly spicy. Mark mobile-ordered, so I don't have the receipt showing what we got or how much it was. The drink was too sweet for my taste.
We also enjoyed the meal we got from Lucky Fortune on Pacific Wharf in California Adventure
Potstickers and a fake meat Bahn Mi sandwich with cucumber salad, with a Vietnamese iced coffee, $18.23
Last edited: