I'm so happy, I could BOUNCE!
So, long time between updates. We're just crazy busy, well I am! We finally got our taxes done, and our accountant is retiring this year, so we got to break in a new guy next year. What else? Well I wasn't expecting it, but we received the stimulus! I didn't think we would get it since we are not employees. Within five minutes of opening the envelope, I got an email from the accountant with the results of our taxes….We owe the Feds $86 more than the stimulus. Of course we do. Win some, lose it quicker!
Still no bites on Apartment #2. I'm really hoping that it rents by the 1st of June cause we really need the cash! Other than that, us and the kitties are hanging in there. I'm getting tired of constantly doing dishes, eating at home, even if we do takeout. Dine in restaurants won't be coming back to LA county any time soon, so I might as well get used to it. Of course we can always go to Orange County (they opened back up) if we are desperate, but we're waiting awhile. The word on the street is that June will be back with a harder punch than April. Let's hope not.
Anyways back to the Trip Report!
Day 8

I woke up just after 7AM. I realized that I was derelict in my duties. The night before, Fran had asked me to look up today's showtimes of the most recent Star Wars movie. You see she had been sick with a terrible cough at the time of it's release and she didn't want to be "that person" who was hacking away during the movie, so that no one could hear what was going on. We had tickets for a couple of days after Christmas, but she was still coughing so bad then, we got a refund. Then when the new year hit, we were so busy we never had the time. (Hmmmm…..in hindsight could she have had a mild case of the COVID-19, and I was asymptomatic? Probably not.)

The week before we left for Disneyworld, I pointed out to her that we could possibly see it while we were here, and she said we would think about it. Well, while I was inside the Publix store the night before. They had all agreed to see the movie the next day. It was my job to find out show times and communicate that information to the ladies. I felt so lousy before going to bed, that even though I had looked it up, I didn't communicate the information to Pam and her Mom.

So this morning when I was feeling much better, I sent them a quick text. We decided that the 3:45 showing at Disney Springs would be the best option. There was an earlier show, but this way no one would be rushing anywhere.

I got dressed and started on breakfast. Today would be leftovers. Fran was having the Cinnamon Roll French Toast Bread pudding leftovers.




I had another plate of the Yachtsman leftovers along with my coffee.




And then we headed off to Hollywood Studios. I had a 10:20 FP for RnRC, and since Fran can't ride it, I get to go twice! I got in line about 10:35.

The first ride I got into the preshow at 10:48 and was off the ride by 10:58




While in the "alley" waiting for my limo, I noticed a sign. I'm not sure if it's been there all along but it just sunk in on my second ride. In the construction area which separates the main queue from the single rider line, there was a sign on the chain link fence which read


Construction Crew only

San Andreas & Son


I love the Imagineer humor!


The second ride I got into the preshow at 11:07 and was off the ride by 11:19.





On our way out we took a couple pictures with a PP photographer.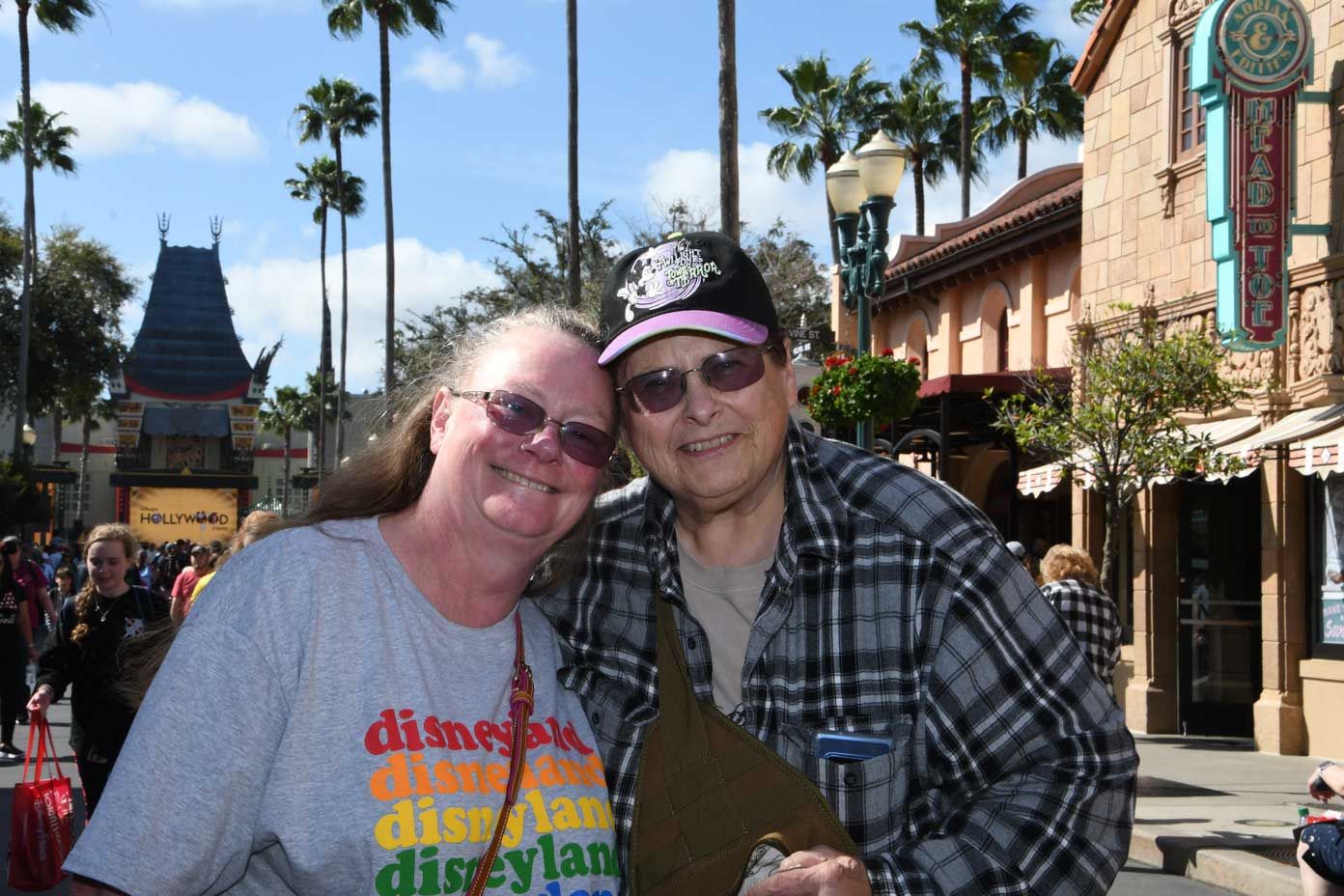 And then we were done at DHS. There was nothing else that we really wanted to stick around for. We had been through most all the shops the day we rode RotR, we ate at Woody's Lunchbox, and really there were no other QS we wanted to try. The park was PACKED! We had the misfortune of choosing a week when the International Cheer Fest was taking place, so there were cheer groups everywhere, in all the parks.

We caught the Skyliner back to the Riviera. On the way back to the room, we found some people admiring the carpeting outside the elevators. Its very subtle but if you look closely, you'll see the Fab Five.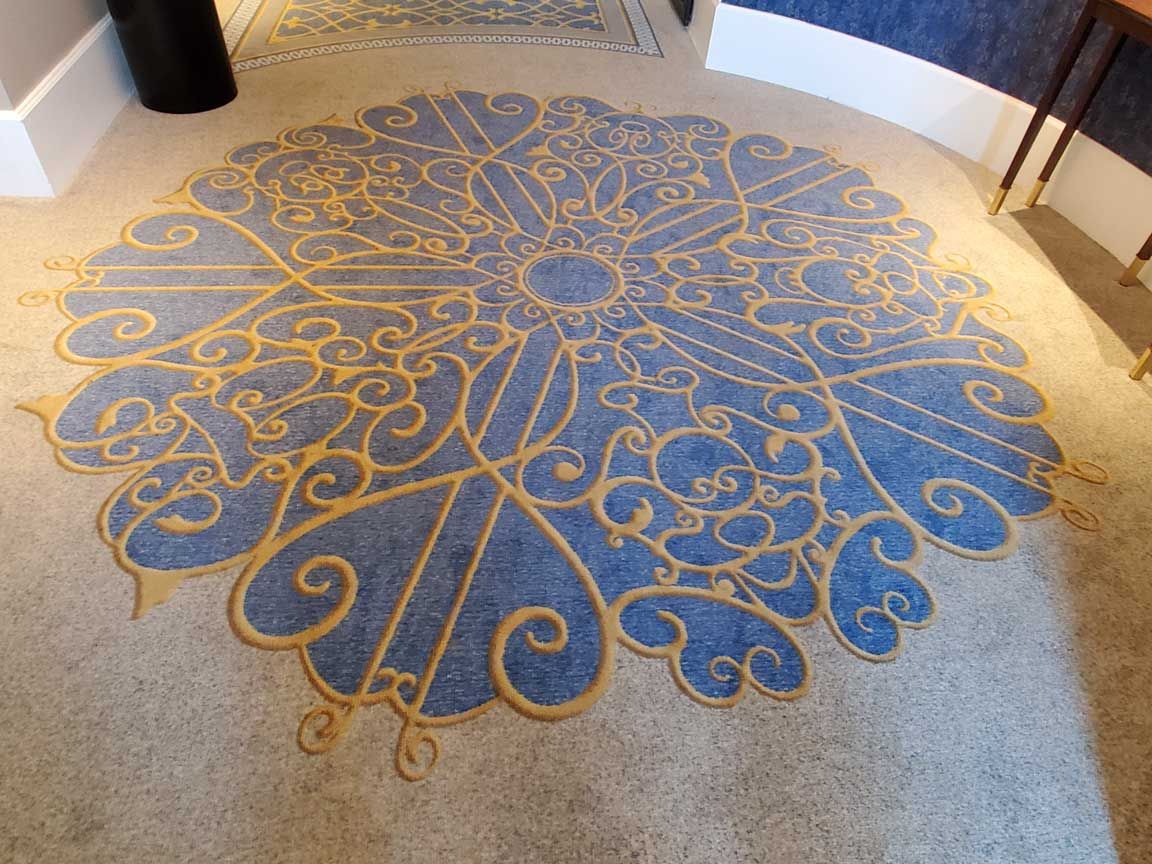 We had about half an hour before we needed to take off so Fran had me make her a Ham Sandwich with the meat packets Pam had picked up for her. In the future I may just add them to our shopping list for the shopping service. They're only like $.60 each, and she likes them. I don't. I'm a snob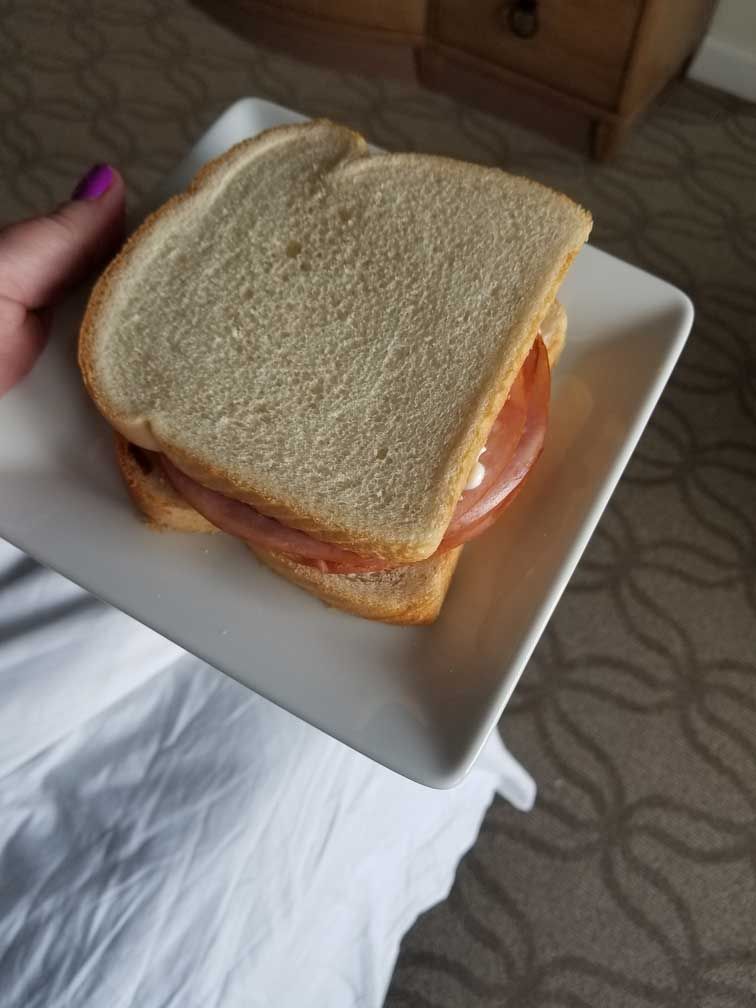 At the room, we picked up some goodies for JJ, and then it was down to the bus stop to Disney Springs. We waited about five minutes and pretty soon we were on our way.

Our first stop was World of Disney. Fran always likes to shop there and today was no different. She found some shirts and who knows what else. I don't really even pay attention anymore.

Since she had a ham sandwich in the room, but I had nothing, I was a little hungry. There was a place called Aristocrepes which I had read about online, so we headed there. On the way we stopped for Margaritas.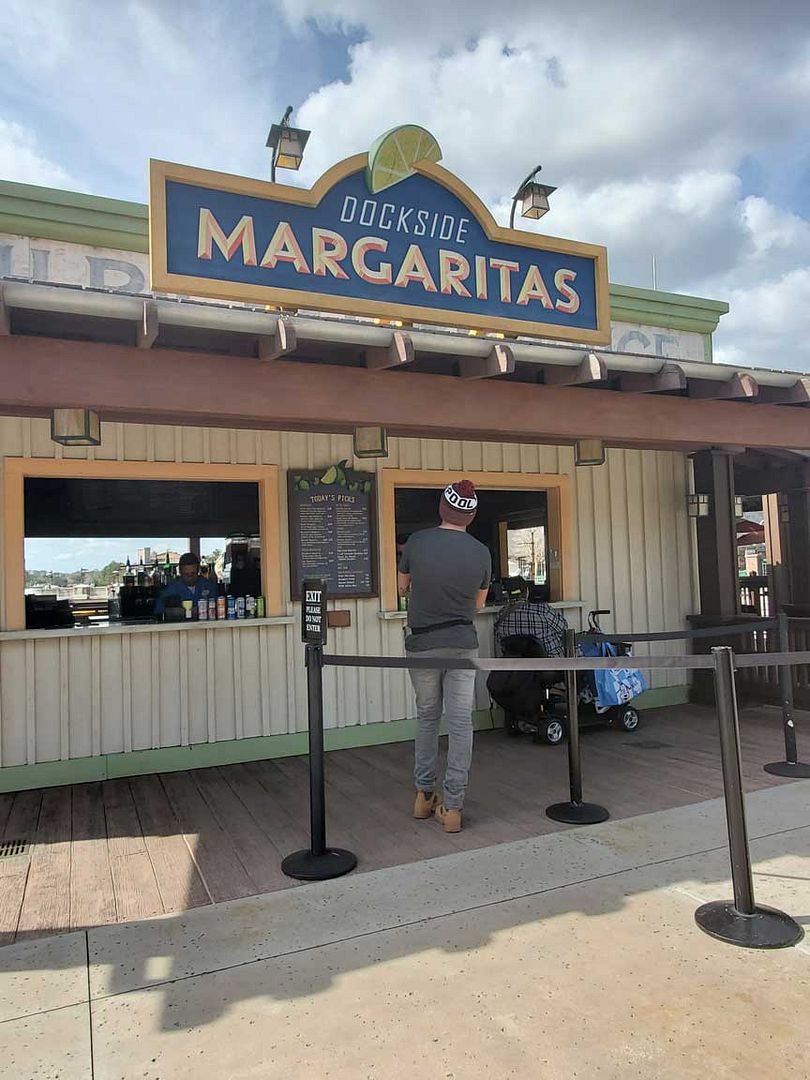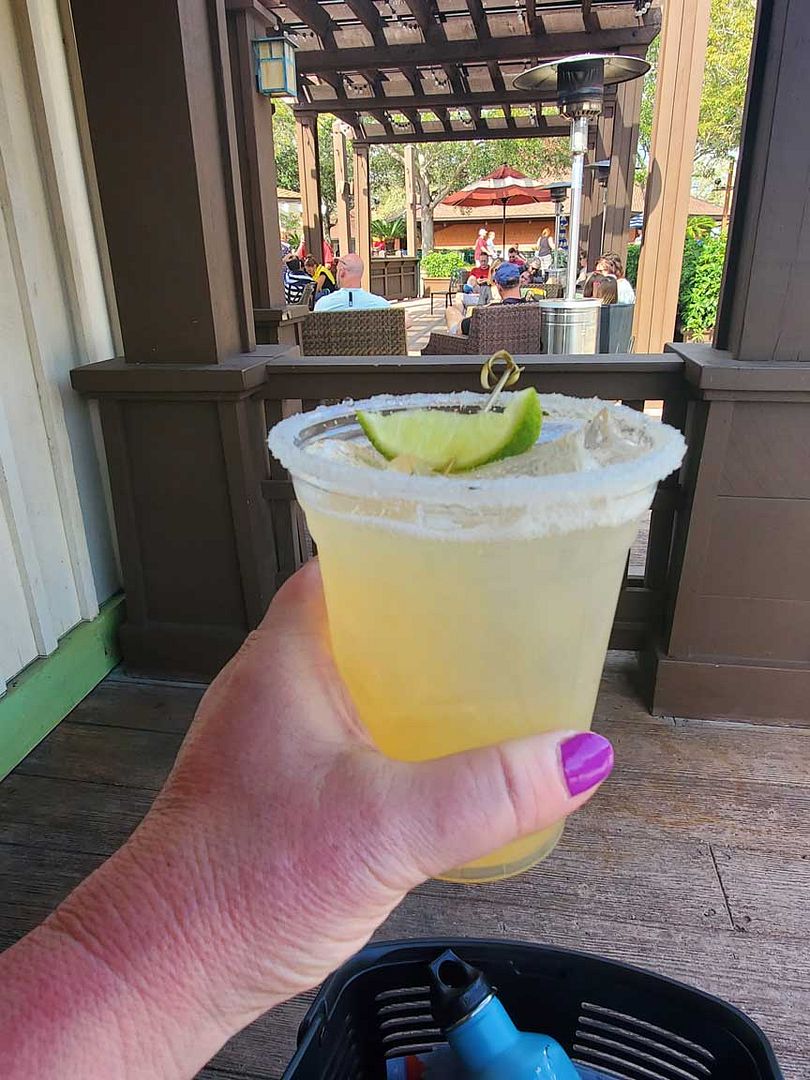 When we got to the Aritsocrepes location, it was closed. Since we were right next to Goofy's Candy Company, she asked if we could get something sweet to eat in the movie. I got us a rice krispie treat, a Mickey Marshmallow wand, and a milk chocolate smores treat. Sorry forgot to take pictures. But here's approximately what we ordered. This marshmallow wand is from DCA and the nice thing there is that Karamel Kuche does not have the exclusive on caramel treats so in addition to the chocolate coating there is caramel underneath, at WDW it's just chocolate.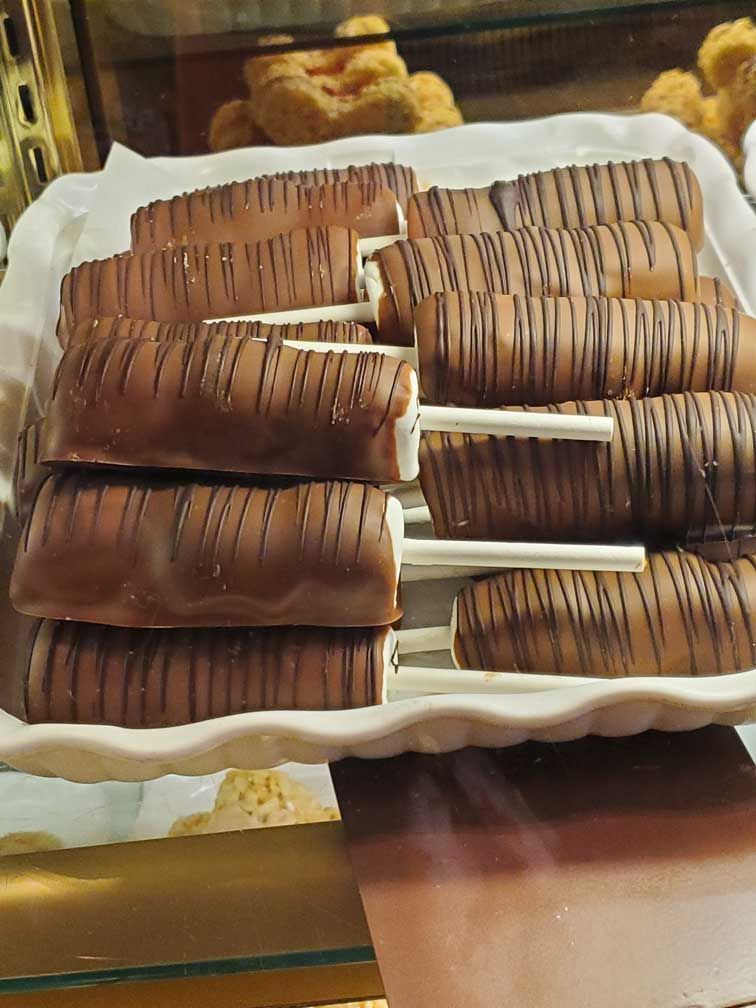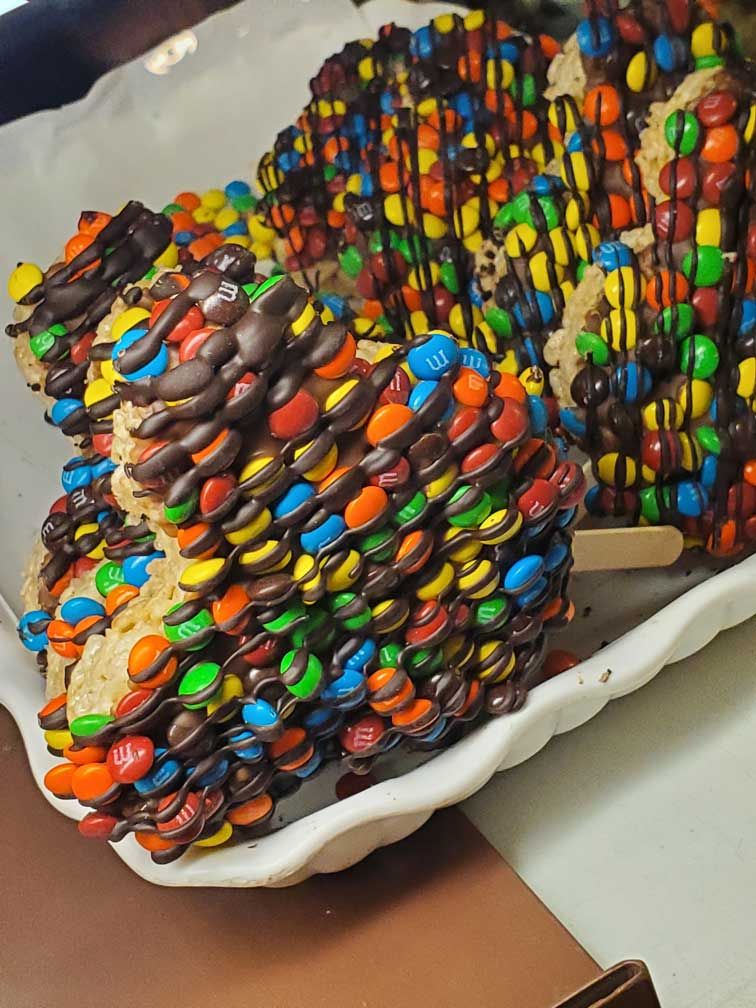 There was still the quandary of what to eat for a snack. I remembered the Poutine stand and she agreed that it sounded good so we headed back that way. We agreed on the classic, and it was a more than hearty portion to tide us over through the movie.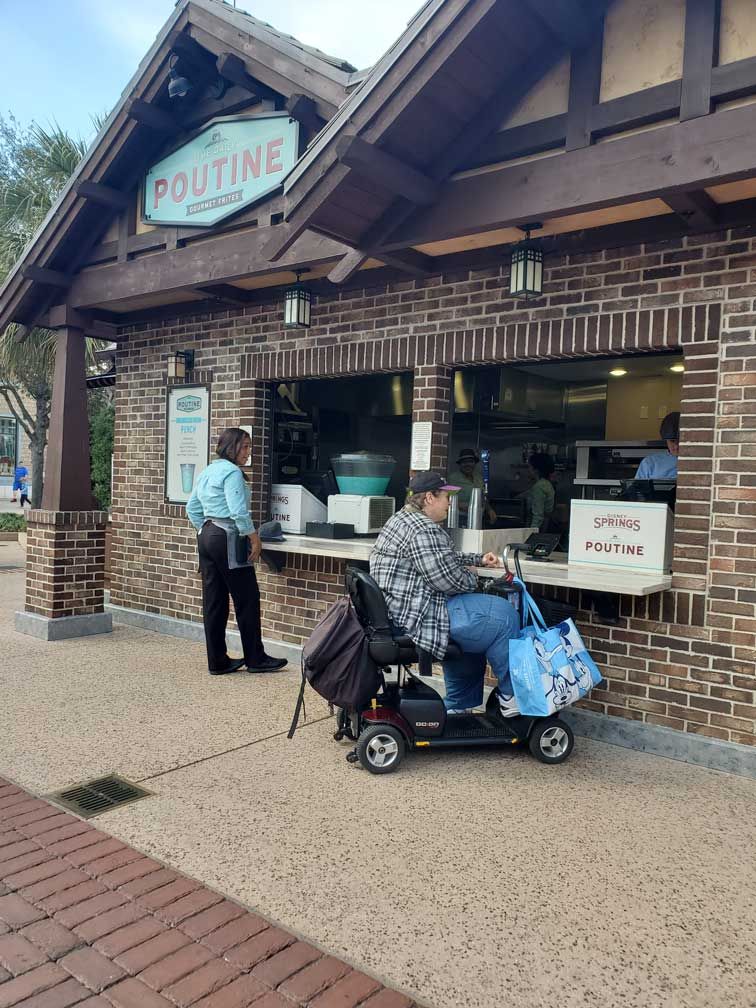 It was getting close to time for the movie and we headed to the theater. Pam and her mom arrived about 15 minutes after we got there and we got some popcorn before taking our seats. The movie was good and we were all entertained. And also I finally understood what I had seen on Star Tours a couple days before.

Fran and I weren't terribly hungry from all the popcorn and treats we ate, but we wanted to hang out some more. We checked with the Edison but they had a ½ an hour wait, plus Fran didn't think they had much of anything light on their menu. Splittsville was right next door, and Pam was thrilled about a veggie rice bowl that she had eaten there once before. I was interested in a sushi roll to split with Fran so that ended up being just perfect.




I got a Moscow Mule.




The two of us split the Crouching Dragon roll, and that was just enough.




Pam got her veggie rice bowl.





JJ got a mushroom Swiss Impossible burger, and she just loved it!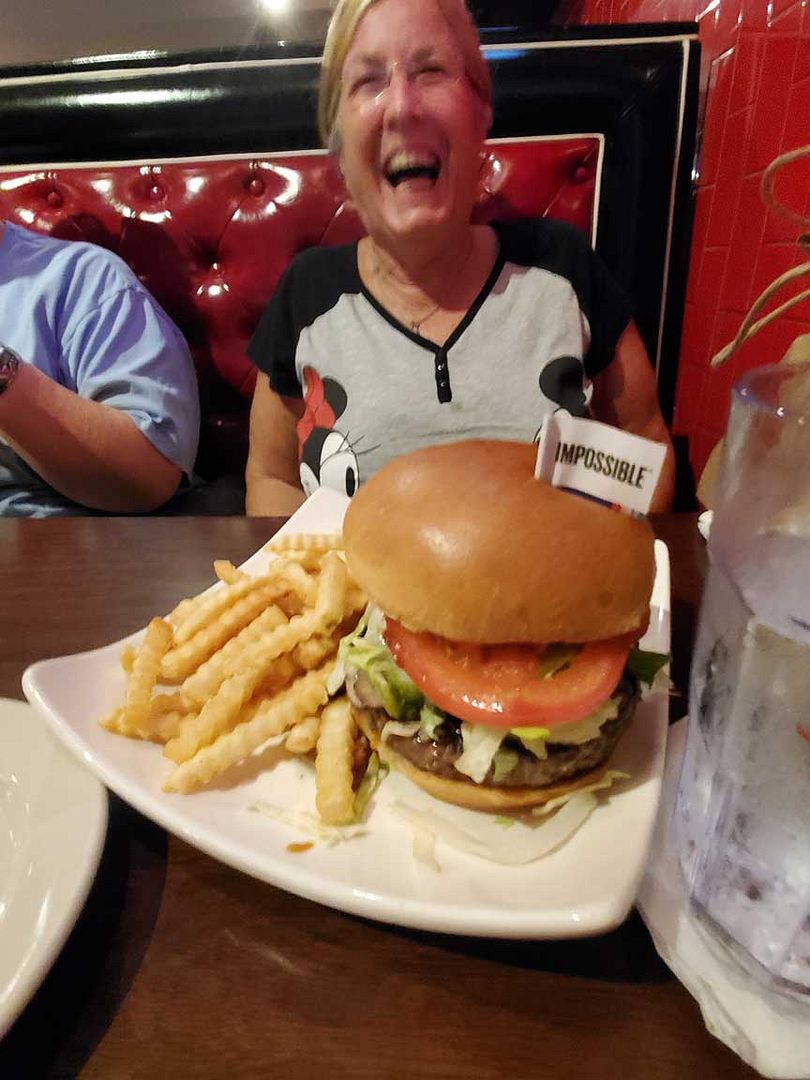 Fran and I ordered a Brownie Sundae, but we were the only ones to get dessert.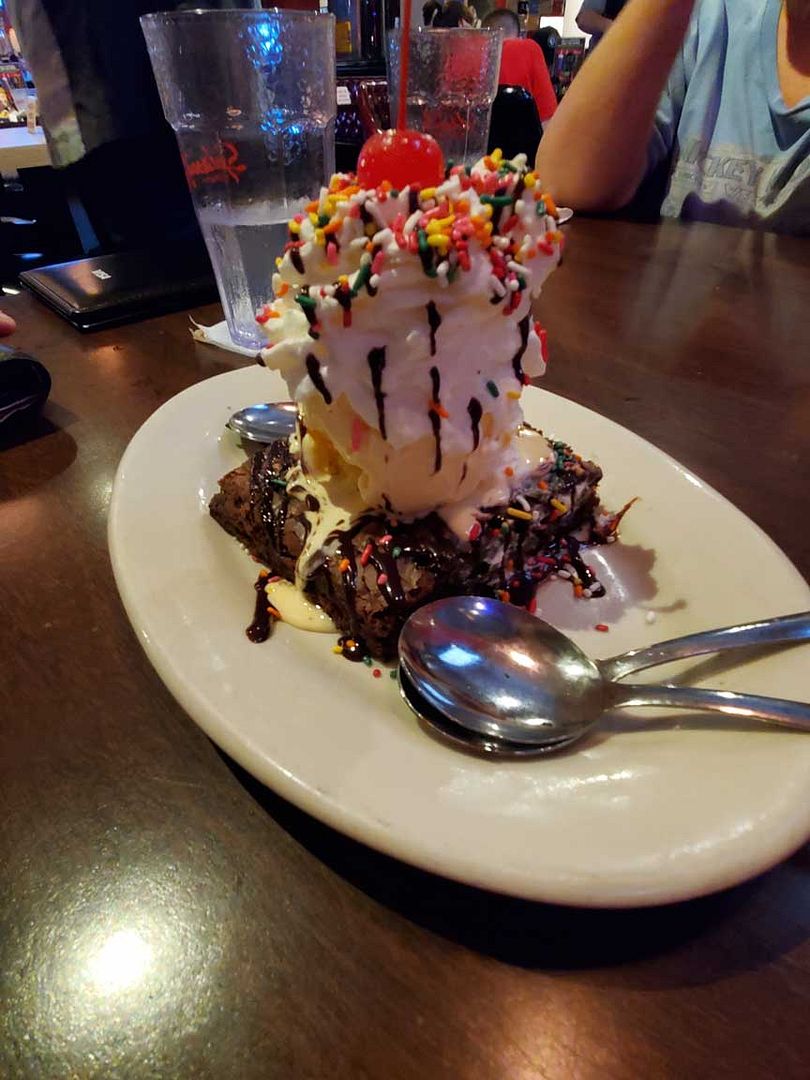 They had a Gluten free cupcake but Pam didn't like the flavor. She wanted the ice cream sundae that was on the menu, but they couldn't guarantee there wouldn't be cross contamination, so she went without.

We sat around for a while planning and scheming. Who knows if any of that will come to fruition now? Eventually we said our goodbyes and they headed back home and we headed to the bus stop.

Just as we were arriving at the bus stop a Riviera bus was pulling away. We figured that it would be at least 20 minutes before we saw another bus, but oddly enough there was another bus in 15 minutes. The resort is pretty close and I wonder if they just need one bus at that hour that can keep circling back or they actually route them around to multiple locations just to keep them on their toes.

We were quickly loaded into the bus and back at our resort in no time. I realized that it was starting to get close to the time when we need to begin packing up to go home. I had a load of laundry in the wash and moved it to the dryer which got me thinking about what I wanted to wear for the next couple days and what I could start packing in the morning. I wasn't going to make the same mistake again packing all the dirty clothes in a suitcase without clean underwear spread throughout the four suitcases.

After making a pile of clothes to pack in the morning and changing it to the dryer, I took a tub. I missed my bath the night before and my legs were sore from walking at Universal the day before, plus the AMC at Disney Springs doesn't have the nice recliner seats like our normal Cinemark at home where we normally watch movies. I know First World problems!
I slathered my legs with Voltaren Gel and hoped that would help.

After a nice bath, I crawled into bed for a good night's sleep!
Last edited: