Techarita
Staff member
Administrator
Disneyland 101 – Dining Strategies
Wayne Toigo | April 29, 2013 |
Food, glorious food! In this segment of our
Disneyland 101
series, we cover some of the many
dining options
around the
Disneyland Resort
. There are a wide variety of dining choices, and that's a good thing because almost everyone has a different way of approaching food and dining at the parks. But I don't want to cover specific restaurant reviews, or go over the menus of each location. Instead, I want to cover information not only for the annual passport veterans (who know every restaurant and snack kiosk), but also to those travelers who have never been to Disneyland or don't go that often and especially to those who frequent Walt Disney World where dining almost requires a whole plan in itself.
You can also listen to the full "
Disneyland 101 – Dining Strategies
" segment on our recent episode of the
DIS Unplugged Podcast: Disneyland Edition
.
Read more ...
*** ºOº ***
Sneak Peek: Mickey and the Magical Map
Tom Bell | April 28, 2013 |
Recently I was able to get a sneak peek into the creation of the new live show coming this Summer to the Fantasyland Theatre in
Disneyland Park
. No video was allowed, but I was able to get a peek at the stage, get a sample of what the set can "do", plus take a look at one of the dance numbers that's currently in rehearsal. Disney Creative Entertainment is very excited about this show and looking at just a few pictures, you can see why.
Read more ...
*** ºOº ***
Windows on Main Street – Harrison "Buzz" Price
Michael Bowling | April 23, 2013 |
Walt Disney and those who originally built
Disneyland
had their roots in film making. Walt enlisted employees from studio art and set design departments throughout Hollywood to ensure his vision for his family theme park was realized. Entering Disneyland is similar to entering a theatre. The attraction posters provide a sneak preview as to what is inside. The entrance walkway was once colored red, similar to a red carpet of a theatre. The names on the Windows of Main Street are the credits for some of the many people who contributed to Disneyland and Walt Disney World. Typically the inscriptions on the windows appear as fictional businesses and often refer to a hobby of or the contribution made by the person honored. Disneyland also has dedicated windows in
Frontierland
,
Adventureland
and
Mickey's Toontown
.
Read more ...
Please listen to
my conversation with Sam Gennawey
as we talk about Buzz Price and his relationship with Walt Disney on The DIS Unplugged: Disneyland Edition. Sam is the author of Walt and the Promise of Progress City and Disneyland: The Evolution of a Dream, a contributor to Planning Los Angeles and other books and is a columnist for the popular MiceChat website.
*** ºOº ***
Book Review: Seen, Un-seen Disneyland
Michael Bowling | March 5, 2013 |
During the construction of the
Storybook Land Canal Boat
attraction at Disneyland, Walt Disney insisted leaded glass be used in the windows of the cottages. The model builder, who was looking for ways to cut costs, wanted to use regular glass and asked Walt, "Who'll know the difference?" Walt sternly replied, "I'll know the difference." In his book,
Seen, Unseen Disneyland – What You See at Disneyland, but Never Really See
, author Russell D. Flores takes us on a journey through Disneyland examining many of the details Walt and his Imagineers put in the park which most guests rush past on their way to queue up for attractions.
On a
recent segment
of
The DIS Unplugged: Disneyland Edition
I enjoyed speaking with Russell about his book and his efforts to get it published, our favorite Disney reference books and what we enjoy the most about Disneyland.
You may order
Seen, Unseen Disneyland
from
Amazon
, or if you want an autographed copy you may order it directly from Russell Flores at
orders@sudbooks.com
. Be sure to mention you heard about the book on The DIS Unplugged!
Read more ...
*** ºOº ***
Help! A Walt Disney World Vets First Time at Disneyland Part 2
Leah Zanolla
| February 18, 2013
Were really getting deep into the planning of our May trip to Southern California and the
Disneyland Resort
. If you read the
last installment
of my Help! series, youll recall that my family travels to
Walt Disney World
several times a year, but this will be our first trip out west and were really looking forward to it! Since well only be newbies once, we decided to take you all along on the journey and even before that, to get your help in planning our trip. Keep reading to see what decisions weve made and what still needs to be done!
Read more...
*** ºOº ***
Behind the Walls of Disneylands Fantasy Faire
Tom Bell
| February 8, 2013
Very soon your favorite Disney Princesses will be getting a new home at
Disneyland
!
Fantasy Faire
opens in the former location of the Carnation Plaza Gardens on March 12th. Recently,
The DIS
was invited to take a peek behind the construction walls and below are some pictures from that tour. We also discussed the new area on the recent
Fantasy Faire Preview
segment of the
DIS Unplugged: Disneyland Edition
podcast.
Read more...
*** ºOº ***
Help! A Walt Disney World Vets First Time at Disneyland Part 1
WebmasterLeah
| January 19, 2013
My family and I know
Walt Disney World
like the backs of our hands. Well, my husband would maintain that I sometimes get lost in the back section of
Disneys Hollywood Studios
(I cant argue, its true), but in general, were pros! We could plan a spontaneous trip to the World leaving tomorrow and not have any problem knowing what to pack, where to go and how to best tour the parks. This summer, we will be taking our first trip to
Disneyland
and the Southern California area and were overwhelmed. Help!
Read more...
*** ºOº ***
Salute to the Golden Horseshoe ~ Limited Time Magic at Disneyland
Mary Jo
| January 11, 2013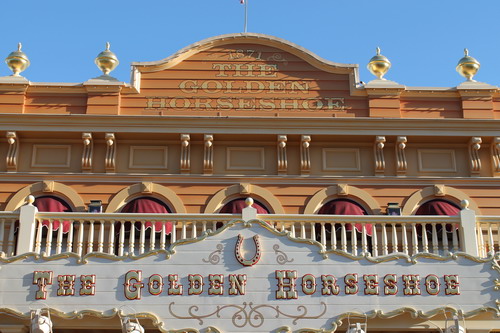 Disneyland
s latest Limited Time Magic treat is the
Salute to the Golden Horseshoe Revue
, performing at the
Golden Horseshoe Saloon
in
Frontierland
from January 10 through February 4, 2013. This show is a tribute to the original Golden Horseshoe Revue (1955-1986) and Golden Horseshoe Jamboree (1986-1994) shows. These shows were favorites of mine, and I almost never missed a chance to watch them when we visited Disneyland in those earlier years. As soon as I heard that Disneyland would be showing this salute featuring songs from the beloved revues, I made plans to go see it. Read more about it below and listen my
segment about the Revue
on the
DIS Unplugged: Disneyland Edition
.
Read more...
*** ºOº ***